Credit: RTE
Stressful, strange and unfair are some of the words Rory Roberts has used to describe a clause in his apartment lease that prevents him from selling it to an approved housing body, Dublin City Council or any other Government agency.
He is one of four apartment owners in Parkgate Place in Dublin 8 who had agreed to sell their properties to Approved Housing Body iCare Housing before this clause stymied the sales.
Mr Roberts bought the apartment in 2006 and was living there with his wife when they decided to sell in August 2022.
The lease in this case refers to his title document, which is actually a very long-term lease for more than 900 years, something that is standard in multi-unit properties like this.
When he decided to sell, Mr Roberts was soon advised that outstanding minor fire safety issues ruled out many mortgage-backed borrowers.
However, property funds and approved housing bodies expressed an interest and they opted for the latter.
"Myself and my wife, we were delighted to sell to them. They're helping people who are trying to rebuild their lives," Mr Roberts said.
They in turn set their heart on a house in the southeast closer to the coast.
"We had moved out, we thought the sale was going to go through, but we got a solicitor's letter in November saying that we couldn't sell to a housing authority or health boards or any government agency," Mr Roberts said.
The solicitor's letter was sent on behalf of the Owners' Management Company.
Mr Roberts's said he was previously unaware of the covenant in his lease that prohibits sales or lettings "to a local authority, health board, housing authority or government agency.
"That was a big shock. We tried to negotiate, we tried to figure something out with the management agency, but we couldn't make any headway."
And so, two-and-a-half months after the apartment went sale agreed with iCare Housing, the sale fell through.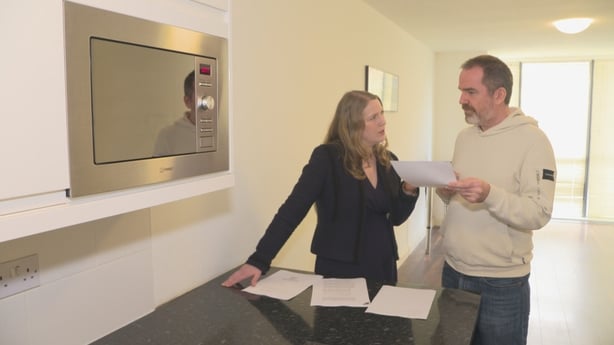 Mr Roberts believes the clause is discriminatory.
"Landlords are not allowed discriminate against people who take housing assistance, but somehow it seems that… you can discriminate against (selling to) a housing authority," Mr Roberts said.
"Somehow there's a loophole there."
Mr Roberts added that he and his wife had already drawn down a mortgage on their new home when they lost the sale to iCare, so despite some reservations, when a property fund made them a new offer, they accepted it.
"They were offering lower prices at that stage, lower than the market price because they have become aware of these issues," Mr Roberts said.
But he said this sale also fell through due to the covenant in the lease.
"(We were) trying to get clarification from the fund about who they were going to rent this apartment to. That's what we needed to do in order to sell and get the sign-off from the management company. So we couldn't get that, it was taking too long," Mr Roberts said.
He added that they had to abandon the purchase of their new home, and now, out of pocket and feeling out of options, they plan to move back into their apartment.
Apartment law experts have suggested that vendors themselves could challenge the application of the covenant in court but note that this is an expensive course of action, where a positive outcome is not guaranteed.
iCare Housing is also considering taking legal action.
"I'm trying to put a spotlight on it, I'll certainly take as much action as I can, but we can only do what we can do," Mr Roberts said.
In the meantime, he has likened their situation to being in the John Steinbeck novel 'The Pearl'.
"We can't sell it to this person, we can't sell it to that person," he said.
"My understanding was, in our constitution, that you're supposed to be able to sell your property, be we just can't, we can't get anywhere with it."